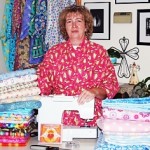 Cancer Survivor Helps to Eliminate Embarrassment by Helping Other Cancer Patients
Christy Borgeld said "Never giving up and pushing forward will unlock all the potential we are capable of." And that is exactly what Brenda did. Despite having cancer and undergoing chemo, she pressed forward. She hated and was embarrassed by the treatment gowns and did something about it…she made her own! Now, she makes them for other cancer patients called Hug Wraps.
Brenda Jones felt as if her world had ended when she was diagnosed with breast cancer back in October 2008. Being forced to put on a drab, generic, embarrassing traditional hospital gown every time she went in for treatment only made the experience worse. So with a flash of inspiration — and a crash-course in sewing — she decided to do something about it. Much to her surprise, the kimono-style wrap she designed to give herself some dignity in the waiting room started garnering requests from other patients. Today? She's not only recovered, but she can hardly keep up with the demand for her homemade Hug Wraps from cancer patients all over the world.
"As any cancer patient knows, you can't imagine getting that diagnosis," Jones tells Tonic from her home in Southampton, N.J. "I remember my face just draining and going white and numb — the roller-coaster of emotions was unbelievable." After what felt like an eternity of tests, scans, mammograms, biopsies and two surgical procedures, Jones began radiation treatment in January last year. By that point, she had simply had enough and like many cancer patients, she felt angry. "I remember walking in and the staff pointed to a dressing room and said 'go on in there and put on a hospital gown.'" When she saw the dreary, flimsy gowns in huge piles, she broke down. "It was just another smack in the face to say 'you are a cancer patient and you are sick,'" she recalls, emotionally.
Tears streaming down her face, she put on two of the gowns (to cover her modesty), put her coat on top and sat feeling miserable in the cold waiting room. It was during this low point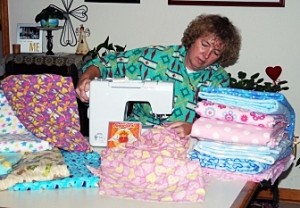 that she had a brainwave. "I thought, I'll make my own gown, a cozy, fun alternative," and right there in that hospital waiting room, she began to imagine her perfect hospital attire. "I wanted it warm, with an open front like a kimono wrap and I wanted it to be colorful and fun, not this drab, hideous thing."
Even though she had no idea how to sew, with a friend's help, she soon learned the ropes and in three days, she had the perfect cover-up for her hospital visits, which were scheduled five times a week for seven weeks. "We made the first one out of an old bed sheet," Jones says laughing. But the end result was exactly as she had imagined — bright pink, adorned with yellow hearts and super cozy. "I tried it on and the first thing I said was that it felt like a nice warm hug and that's where I got the name from." Wearing her Hug Wrap into the hospital the following day, she says: "Everyone's heads turned!" Stunned as she was, more importantly, Jones had experienced her own turning point. "It gave me back my dignity, I wasn't just a patient, with a file — I was a person." After offering to make a similar style wrap for another woman at the hospital, the requests kept coming in.
It wasn't long before Jones was wearing a new Hug Wrap every day for her radiation sessions. She soon realized that not only did wearing them make her feel good, but making them lifted her spirits too. "The more I made … especially now that I was on a mission to make them for other patients, the more my anger reduced," Jones says, adding: "It gave my hands and my mind something to do." Unable to sleep more than a couple of hours at a time, she would often get up and sew in the middle of the night. "I would put my country music on, switch the sewing machine on and just keep on sewing until I was too tired to sew anymore." Back then, with her second-hand machine, it took Jones up to nine hours to make each wrap. "It really took my mind off what I was going through." On her last day of treatment, she left her doctor with all of her spare wraps, to donate to other patients. "I said 'if nobody wants them, just throw them out.' But I was so thrilled when people got in touch and asked for more."
Hear the rest of Brenda's story LIVE on Living Fully After 40 Radio, Monday, May 2, 2011 at 6:00 p.m. http://www.LivingFullyAfter40Radio.INFO